/

Why OpenStack Connect

Within OpenStack you can use a firewall image to create an instance with which you can build a site-to-site VPN. OpenStack Connect offers the following advantages over a VPN:
The connection is secured. The connection is not internet-routed, but point-to-point. DDoS attacks are therefore impossible, for example, and traffic is more difficult to intercept. This is a big advantage, especially for sensitive data.

Your network performance is predictable. Since it is a direct connection, the latency is low and bandwidth is always the same. This is important for time-critical applications such as VoIP.

In accordance with best pratices. If you link your production environment to public clouds, we always recommend using a direct connection.
/

How does it work with OpenStack

In addition to the public IPv4 and IPv6 network, you will receive an additional network within your OpenStack project to which you can transfer services. With the network policies you can determine exactly which traffic, from which server, via which ports, can use OpenStack Connect.

/ Example topology

The topology below is an example of different forms of connectivity that we can realize. Each of the components can also be purchased as a separate service and can therefore be adapted to your specific needs..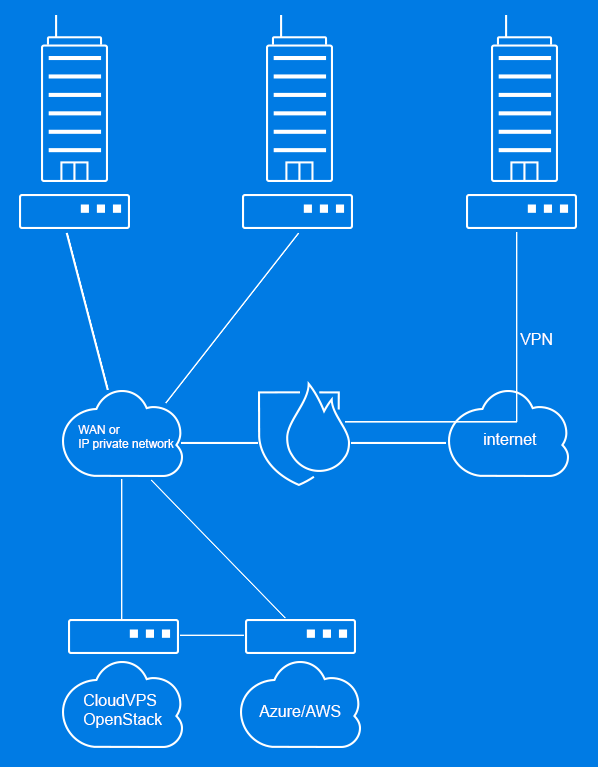 /

Rates

You purchase OpenStack Connect based on the desired bandwidth and redundancy. The connection to OpenStack must be delivered to your desired location. The costs involved are different for each situation. If you wish to receive a quotation for this, please contact our sales department

Links to OpenStack:
/

Signet

CloudVPS is a sister company of Signet and also uses the network facilities of this company. Signet provides connectivity and network solutions and focuses on the implementation and management of various network and telephony solutions.

Signet offers services to connect organizations, employees or equipment to:
Internet (IP);

Other office locations (at home or abroad)

Data centers;

Public and private clouds;
Signet's Cloud Connect service is a method to bypass the public internet and gain direct access to cloud services. With this service you can use on-demand, direct network connectivity with multiple cloud providers. This is possible from the infrastructure at your own location or co-location environment through Cloud Connect circuits.
Cloud Connect from Signet offers you a central, virtual marketplace where cloud providers and Signet's board network offer come together. This marketplace offers unrivaled choice and flexibility, so that you can choose the cloud services (IaaS, PaaS and SaaS) in a public or private version that best suit your applications, workloads and business requirements.
More information about Signet's Cloud Connect can be found on the Signet website, or you can contact us for more details.
/

Equinix

CloudVPS uses the data centers of Equinix. If you are also a customer of Equinix, both inside and outside the Netherlands, and purchased rack space and/or connectivity, you can also connect to our OpenStack via the Equinix Cloud Exchange.

More information about Equinix Cloud Exchange can be found on the Equinix website, or you can contact us for more details.